About me
Antonia Ponti
Tourist guide of San Marino and Emilia-Romagna (Italy)
Tour Leader
Spoken foreign languages
English, German, French.

For many years I have guided and introduced italian and foreign visitors to every corner of the world for most important and exclusive tourist agencies.

In recent years I have preferred to showcase the artistic, cultural, historic artefacts and gastronomic treasures of my native land, the Republic of San Marino and Emilia-Romagna region (Italy).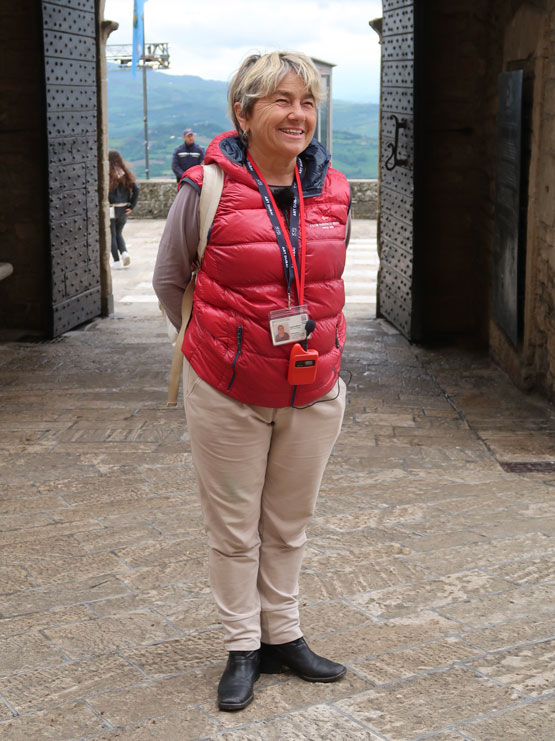 Experience & Qualifications
II graduated from university with a degree in Sociology and Comunication studies and i have also worked abroad for a number of years. To keep my knowledge up to date, i regularly attend courses in history, history of arts, food, wine and local traditions.
Licences
I hold Tour Guide licence which allows me to conduct tours in the REPUBLIC OF SAN MARINO (UNESCO World Heritage) and in ITALY .
Itineraries
I can arrange itineraries and walks of historical and cultural significance in locations such as:
San Marino (UNESCO World Heritage)
Rimini
Ravenna
Bologna
Medieval villages of the Romagna hinterland;
Rural farms and local producers to sample local food, wine and oil.
Rates
RATES can be tailord according to your needs.
(For example, private or group tours, student tours, travel agencies, tour operators, etc.).
Here are some standard rates:
60 minutes visits to
San Marino (UNESCO World Heritage)
€75
up to 25 people
€ 3 x extra person
90 minutes visits to
San Marino (UNESCO World Heritage)
€100
up to 25 people
€ 4 x extra person
120 minutes visits to
San Marino (UNESCO World Heritage)
€125
up to 25 people
€ 5 x extra person
Half-day visits to
Rimini and Emilia-Romagna region (Italy)
€110
up to 25 people
€ 2 x extra person